Self-Checkout Tills
The Snabble SCO
Speed up the checkout process in your shops and benefit from increased throughput and higher average shopping baskets.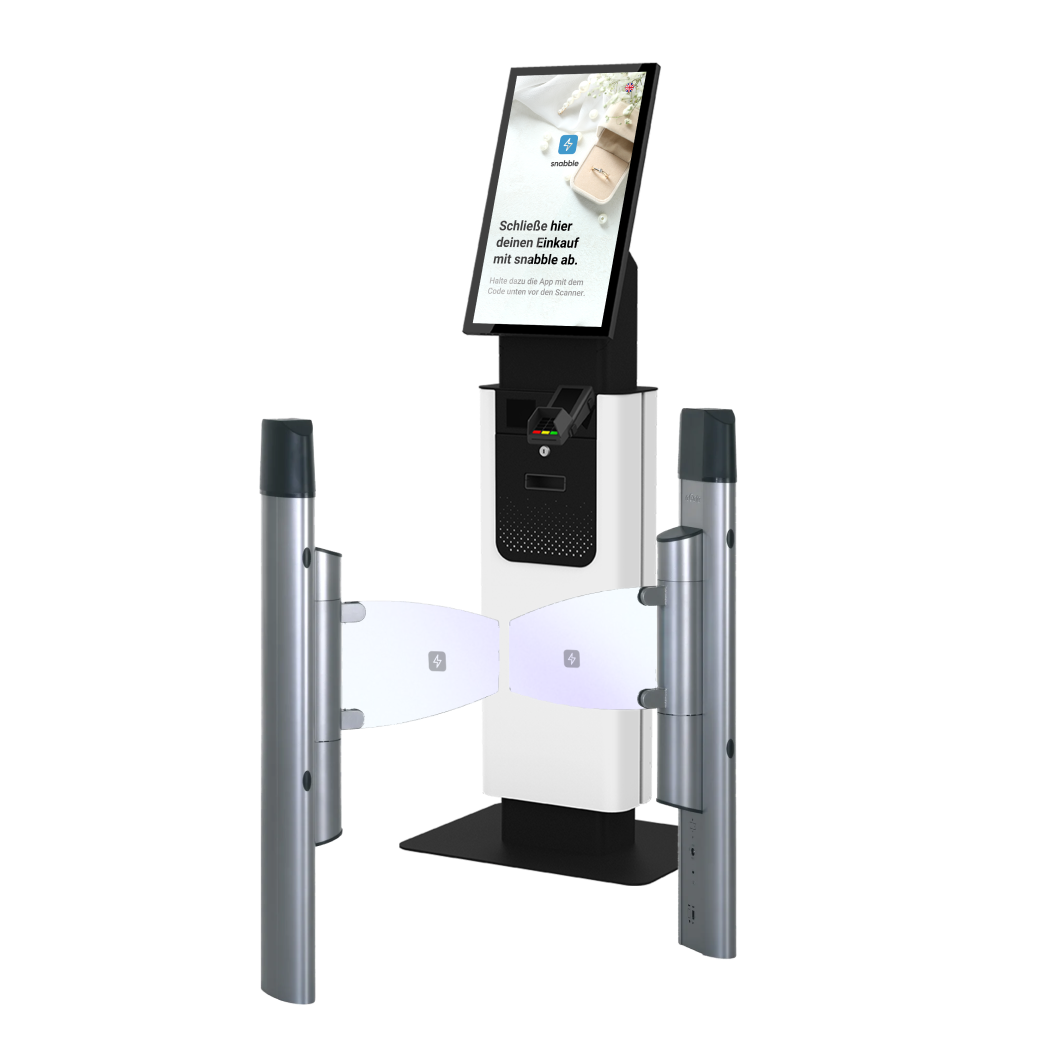 Tailored to your requirements
Self-Checkout POS Solutions
Our software basically works in any hardware configuration. Thanks to our cooperation with multiple award-winning partner companies, we have tried and tested solutions for different application scenarios. Design your checkout area to meet your individual requirements.
Designed for Customers
The SCO That Excites
Besides flexibility and individuality, customers demand efficiency in their customer journey. That's why the minimalist user interface of the Snabble self-checkout is designed for intuitive navigation and short loading times.
Customer-centric User Interface
The SCO that excites
Your Benefits
Powerful Hardware
With our partners Pan Oston, Pyramid and Elo, we offer powerful self-checkout kiosks that can be individually configured depending on the location and purpose.
Intuitive Software
To make your customers' shopping experience as pleasant as possible, the operation of the SCO has been kept as simple and streamlined as possible.
Seamless Integration
Snabble's SCO software integrates seamlessly with existing systems so that all processes can be mapped without friction loss.
Versatile
Whether stand-alone solution, scan & go integration or with gatekeeper function. Use the self-checkout kiosk to take your customers' customer journey to the next level.
Higher Added Value
Employees can take on new tasks in your stores as the checkout process is simplified, resulting in higher overall value creation.
Increased Customer Loyalty
Expand your customer loyalty measures and enable your customers to collect loyalty points directly at the self-checkout and redeem personalised promotions.
No Customer app of Your own?
Snabble offers you various ways to take advantage of the benefits of having your own app.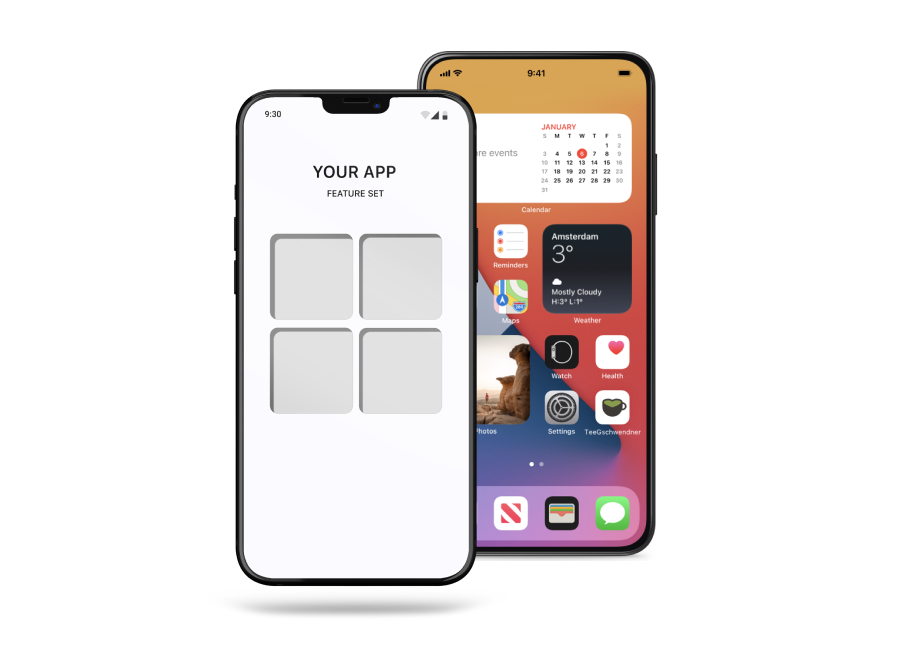 Fixed Payment Terminals
Items can be paid for quickly and easily at the integrated payment terminal. This allows customers to complete their purchase themselves.
Digital and Physical Receipts
Receipts can be retrieved digitally via QR code using smartphones. Alternatively, a printout is possible via a permanently installed receipt printer.
Physical Scanners and Scales
Customers can easily scan barcodes and articles with the stationary scanner. Weighing and quantity goods can be added to the shopping basket directly at the SCO.
Age Verification and Theft Prevention
Age verification can be done via giro card at the payment terminal or manually by your staff.
Purchase on Account for B2B Customers
B2B customers can purchase items on account via a login function, which has advantages for merchants and business customers.
Integrated Loyalty Card Capture
Snabble self-checkout software supports loyalty programmes and promotions. Use these to increase your store sales in a targeted way.
Retailer Portal Access
With access to the Snabble Retailer Portal you have full control over all processes in your shops. The KPI monitoring software maps all checkout processes in your stores.
Integrated AI Support
Checklense camera software can be integrated for additional AI-based theft prevention. Weighing and unit quantity items are automatically monitored by the AI solution.
One Software
Numerous possibilities
Snabble's SCO software allows for versatility, so your new self-checkout will meet your exact needs. We would be happy to advise you on your options.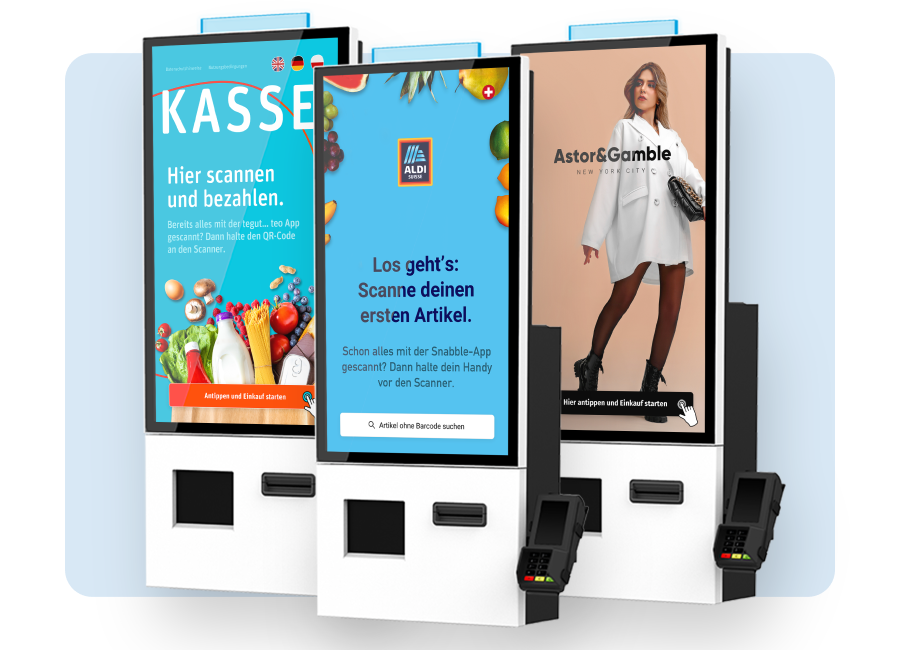 Self-Checkout only
Customers can scan items, pay directly at the self-checkout and have receipts either physically printed or digitally scanned via QR code.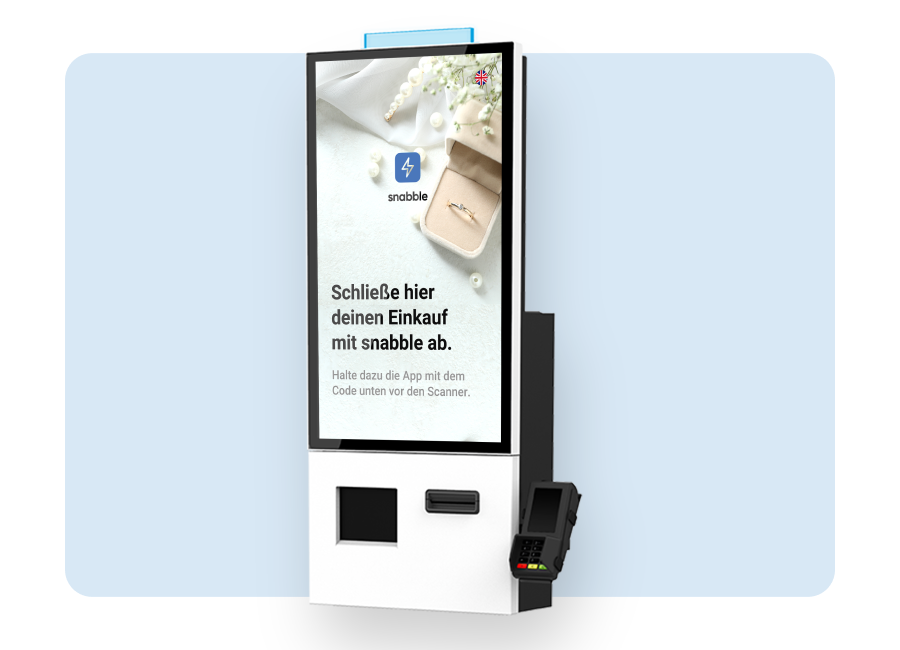 SCO as Gatekeeper
SCOs can also be used as a pure exit checkpoint. In this case, the scanning of goods and payment happens via your Scan & Go app.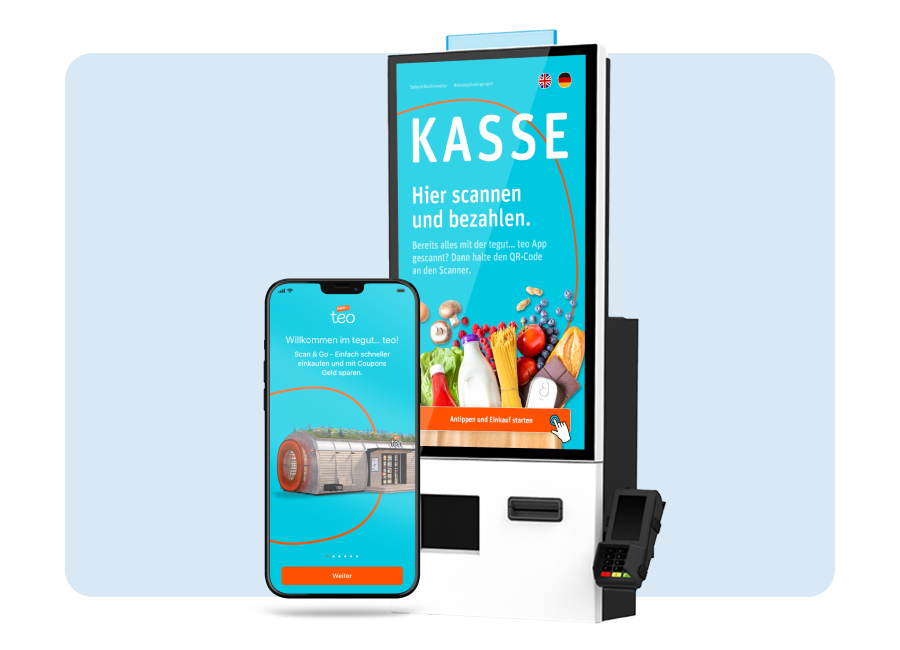 SCO and Mobile
The combination of SCOs and Scan & Go enables a customer journey where items can be scanned via app and the purchase paid for at the SCO.
Grocery stores, duty-free retailers, DIY centers and more
Snabble Use Cases
Snabble App
Find out how ALDI SUISSE uses Scan & Go in over 20 stores to support employees and inspire customers with a personalized and accelerated shopping flow.
24/7 Shopping
With Snabble as a partner, tegut... teo has opted for fully automated, small-format stores. Thanks to SCOs, Scan & Go, store access management and other parts of the Snabble POS platform, shopping is possible 24/7 - without the need for staff.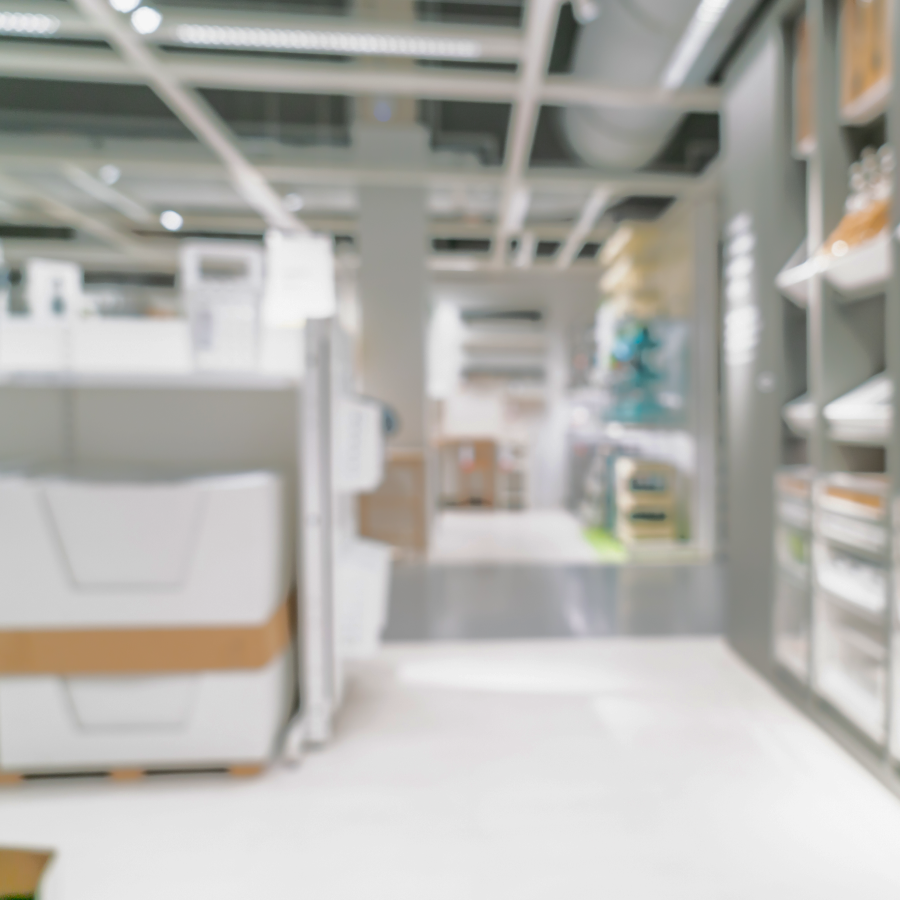 Self Checkout
This is how Leinweber Baucentrum successfully uses self-checkout technology in the DIY segment - whether it's a traditional DIY store or a 24/7 DIY store. Learn more about the range of application scenarios that can be covered with SCOs and Scan & Go.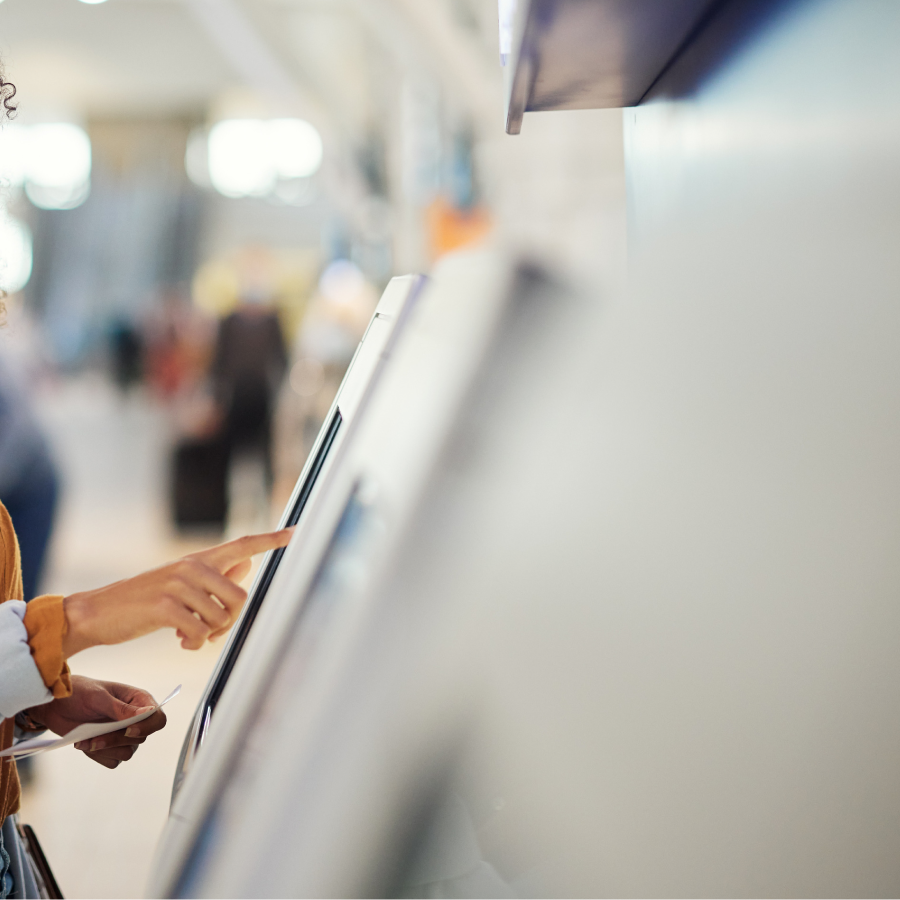 Anti-theft Prevention
How can retailers effectively combat theft and shrinkage while providing customers with a seamless shopping experience? Click on this slide to find out.
mobilePOS
The international duty-free retailer Gebr. Heinemann is a pioneer in showing how mobile checkout systems can be used to make more efficient use of store space, reduce staff workload and at the same time achieve a higher quality of service.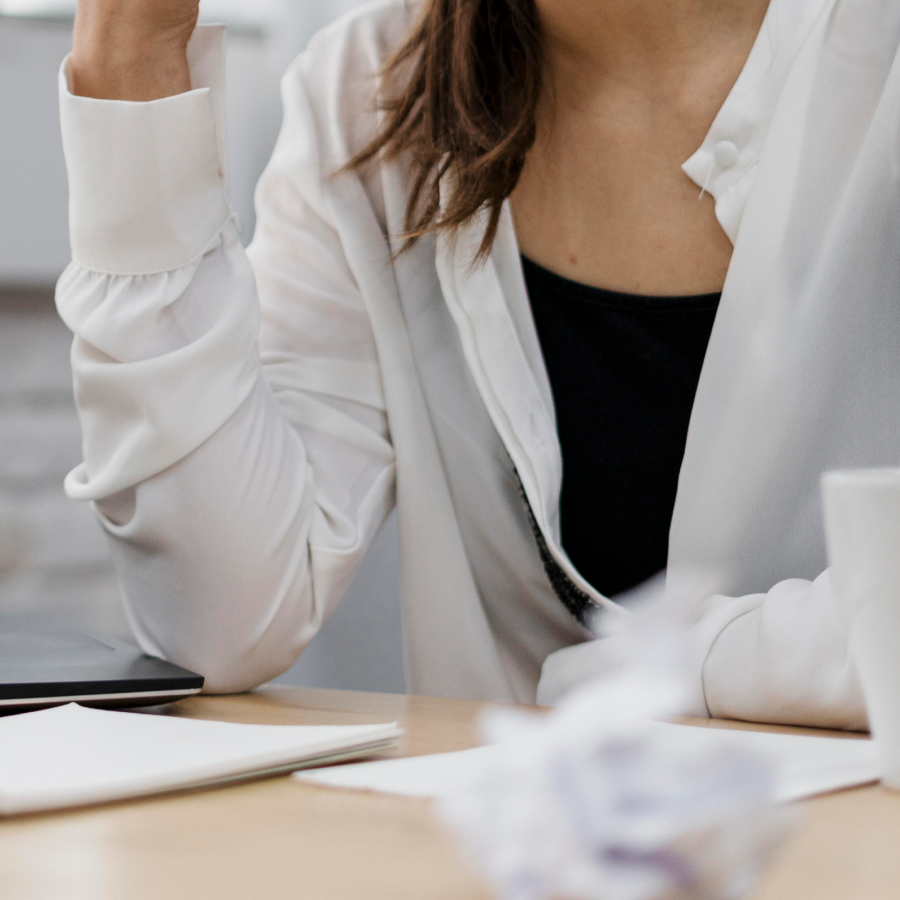 Fallback POS
Whether cyber attacks or technical faults - a failure of the POS system can lead to a loss of sales of up to 100 percent and also damage your reputation. Find out how you can protect yourself against these risks.