Self-Scanning
Scan & Go
Offer your customers a seamless, personalized and efficient shopping experience and benefit from higher shopping baskets, reduced operating costs and increased customer satisfaction with Snabble Scan & Go.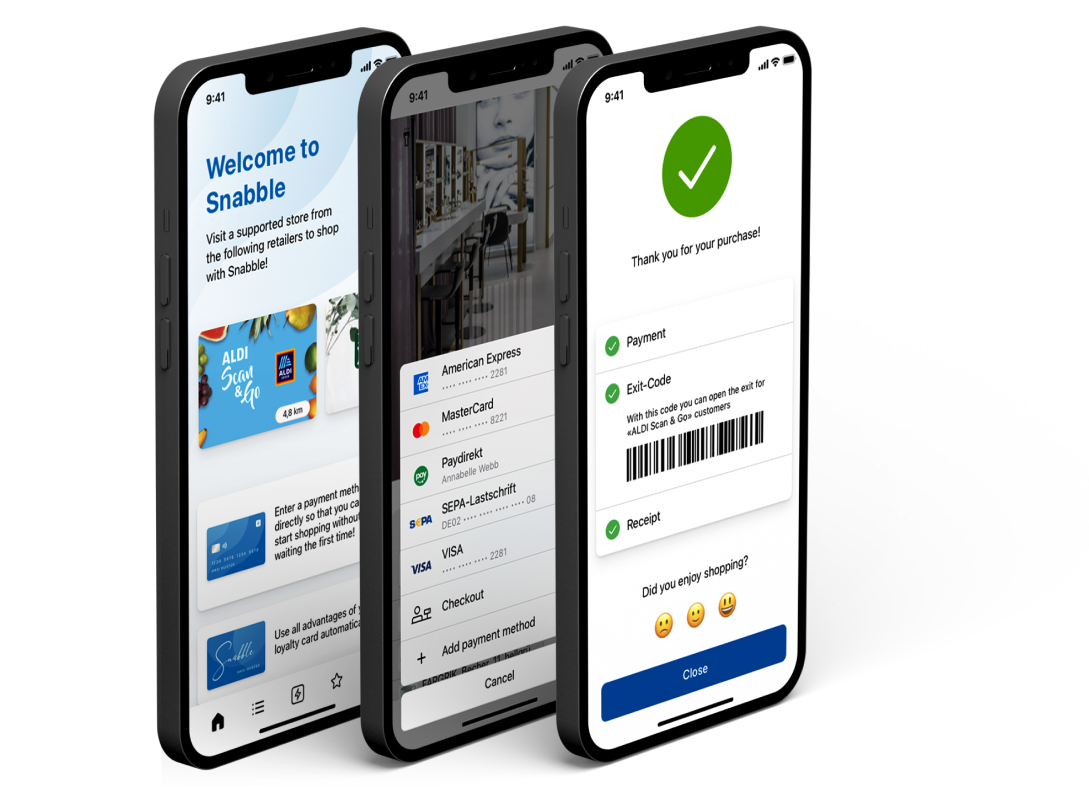 Scan & Go by Snabble
Seamless Shopping Experience
Scan & Go is one of the standards of the innovative and personalized checkout experience. The key to success with Scan & Go lies in the user-friendliness of the software and its seamless integration into your customers' customer journey.
Increased Customer Satisfaction
Apps, SDK and more
Integrations
Simply integrate Snabble Scan & Go into your existing customer app via SDK. Alternatively, you can use Snabble's multi-retailer app to make the innovative Scan & Go technology available to your customers. Don't have a customer app yet, but want an independent app in your corporate design? Then use Snabble's whitelabel solution.
Scan & Go Shopping Flow
Scan – Pay – Go
The store is entered and items can be added directly to the shopping cart using the Scan & Go app or a handheld scanner. Discounted items are automatically recognized and prices are adjusted accordingly. If you use the Snabble app, the chameleon effect is activated and the app adopts your corporate design.
Purchases can be paid for either directly in the app using the payment method provided or via a QR code at the self-checkout kiosk or the normal checkout.
Once the transaction has been successfully completed, the customer sees a success screen in the app. If necessary, a QR code is generated, which is checked by the Snabble gatekeeper or an exit gate. The customer can then leave the store.
Scan & Go with Snabble
Your Benefits
fast_forward
Accelerated Throughput
Scan & Go speeds up your customers' shopping process, reduces your employees' workload and achieves a higher throughput per checkout.
shopping_basket
Higher shopping Cart Value
A higher average shopping cart value is confirmed by cross-segment retailers who have been offering Scan & Go with Snabble for a longer period of time.
hourglass_bottom
Reduced Queuing
Customers no longer have to queue at the checkout, employees can pursue higher-value activities in the store and are relieved.
group_add
Easy Adaption
Scan, Pay, Go - benefit from the customer-centric design of Snabble Scan & Go solutions by achieving higher usage rates.
wifi_home
Industry-independent
With Snabble, you have a partner at your side who can map the entire self-scanning landscape and adapt it to your requirements - regardless of the industry.
trending_up
Highly Scalable
As a cloud-based solution, it is particularly easy to connect new branches and countries. This makes digital innovation tangible and scalable.
person_search
User-centered Design
With short loading times, intuitive operation and other functions, such as checkout integration, Snabble Scan & Go fits seamlessly into the customer journey, while the app is equally simple and straightforward to use.
bar_chart
Real-time Customer Data
Concise analyses of the purchasing behaviour of Scan & Go users in the Snabble Retailer Portal can be used to identify where promotions and communication measures are particularly promising and can be optimized.
barcode_scanner
Fast Scanner
The scan engine of the Snabble Scan & Go software captures items particularly quickly and reliably, even in difficult lighting conditions. Reactive feedback in the Scan & Go app gives your customers confidence during self-scanning.
payments
Mobile Payment
Payments can be made directly on the smartphone in the Scan & Go app, further speeding up the checkout process. Snabble works with a wide range of payment service providers and supports all common payment methods.
shopping_cart_checkout
Checkout Integration
With Snabble, Scan & Go fits seamlessly into your customers' usual customer journey. The conventional checkout can be easily integrated so that purchases can be transferred and paid for either at the SCO or the conventional checkout using a QR code.
receipt_long
Digital Receipt
After successful payment, a digital receipt is automatically issued in the Scan & Go app. This saves resources and customers can shop more sustainably.
wifi_off
Offline Functionality
Even without an internet connection, your customers can scan items and add them to their digital shopping cart. An internet connection is only required for payment processing.
Customer Retention and Promotions
layers
Recommendations
Use recommendations to offer your customers a higher degree of personalization when shopping. At the same time, increase your sales with targeted cross-selling and upselling measures.
sell
Couponing and Promotions
Vouchers and current offers can be viewed and activated directly in your Scan & Go app. You can also use banners in the app to boost your current promotions.
loyalty
Loyalty Programs
Customers can collect loyalty points with their integrated customer card and redeem them while shopping. You will benefit from increased customer loyalty and valuable data on your customers' shopping behavior.
pin_drop
Location based Marketing
Scan & Go with Snabble naturally supports store-specific coupons and promotions to help you strengthen your various locations.
analytics
Analytics
Opt for a mobile app and gain valuable insights into your customers' purchasing behavior. Use the data obtained to optimize your store layout, increase the effectiveness of your promotions and optimize your dynamic pricing.
encrypted
Anti-theft Prevention
Protect yourself against shrinkage and inventory discrepancies. Based on a combination of different variables, such as the amount of the shopping basket, a random quota for random checks or for items that are particularly worth checking, your employees are prompted to re-scan manually via push notification before they can confirm the purchase.
person_check
Age Verfification
The Snabble Checkout Supervisor automatically recognizes products that require age verification. Customers can carry out a one-time age verification in the Scan & Go app and make their own purchases. Alternatively, either your employees are notified and called to approve the shopping cart or the age is confirmed by Girocard.
Anti-theft Prevention and Data Analyses
Manage and Control
Checkout Supervisor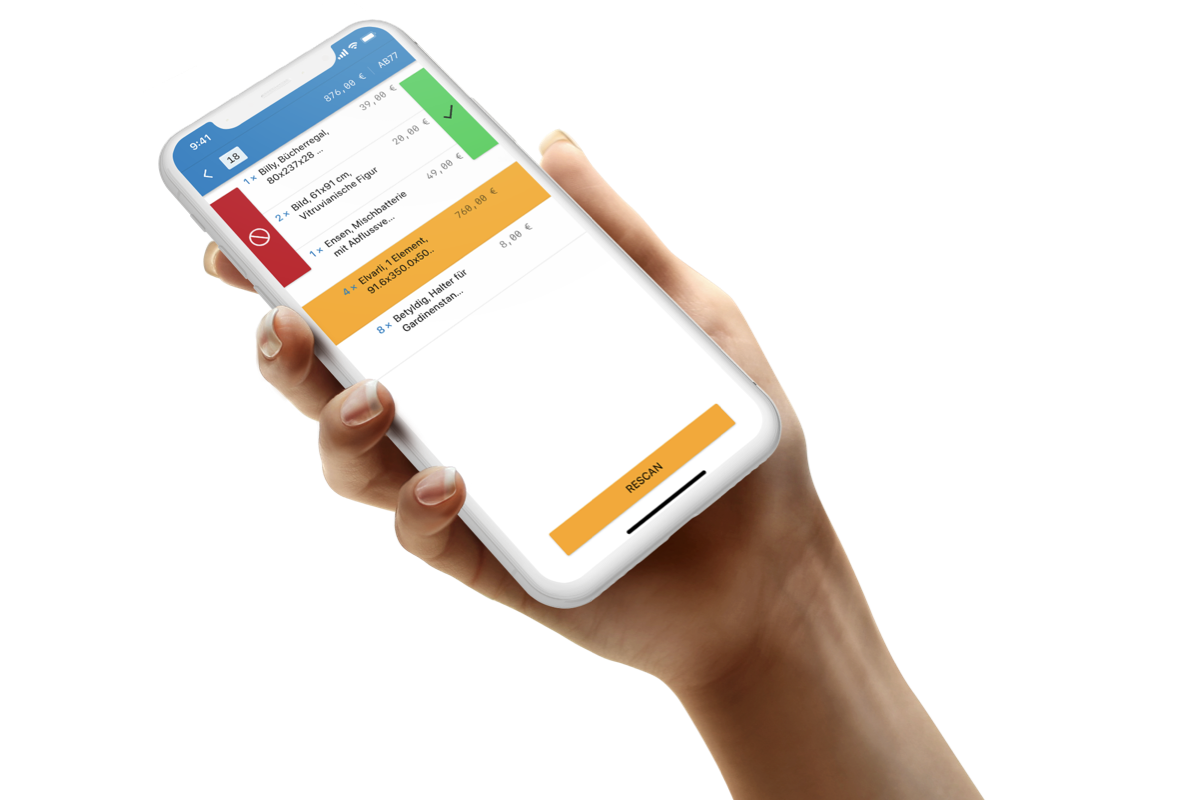 With Snabble Checkout Supervisor, you always have an overview of the entire checkout process thanks to live monitoring. Using rule-based control indicators, the supervisor software can automatically send your employees notifications and determine shopping baskets that need to be checked with re-scanning.
Retailer Portal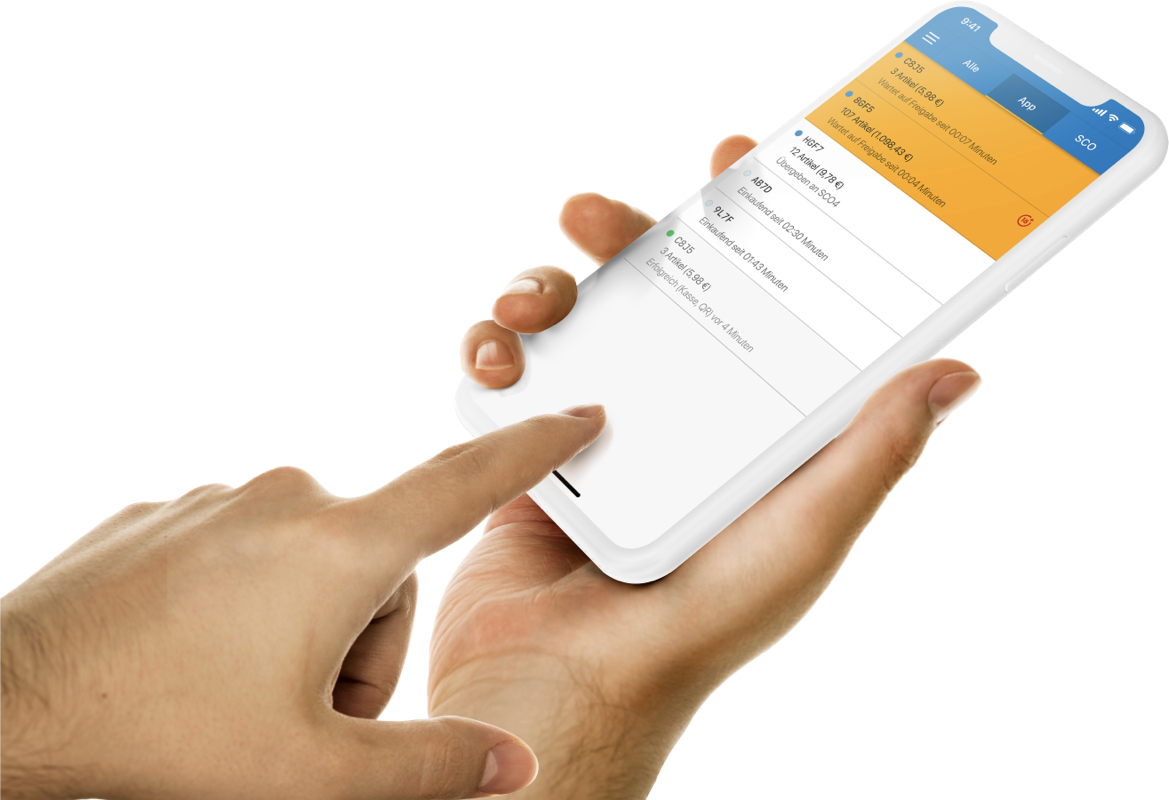 All activities at a glance and powerful analytics. Get access to the Snabble Retailer Portal with live statistics, sales data, user management, store access management, end-of-day statements and more.
Grocery stores, duty-free retailers, DIY centers and more
Snabble Use Cases
Snabble App
Find out how ALDI SUISSE uses Scan & Go in over 20 stores to support employees and inspire customers with a personalized and accelerated shopping flow.
24/7 Shopping
With Snabble as a partner, tegut... teo has opted for fully automated, small-format stores. Thanks to SCOs, Scan & Go, store access management and other parts of the Snabble POS platform, shopping is possible 24/7 - without the need for staff.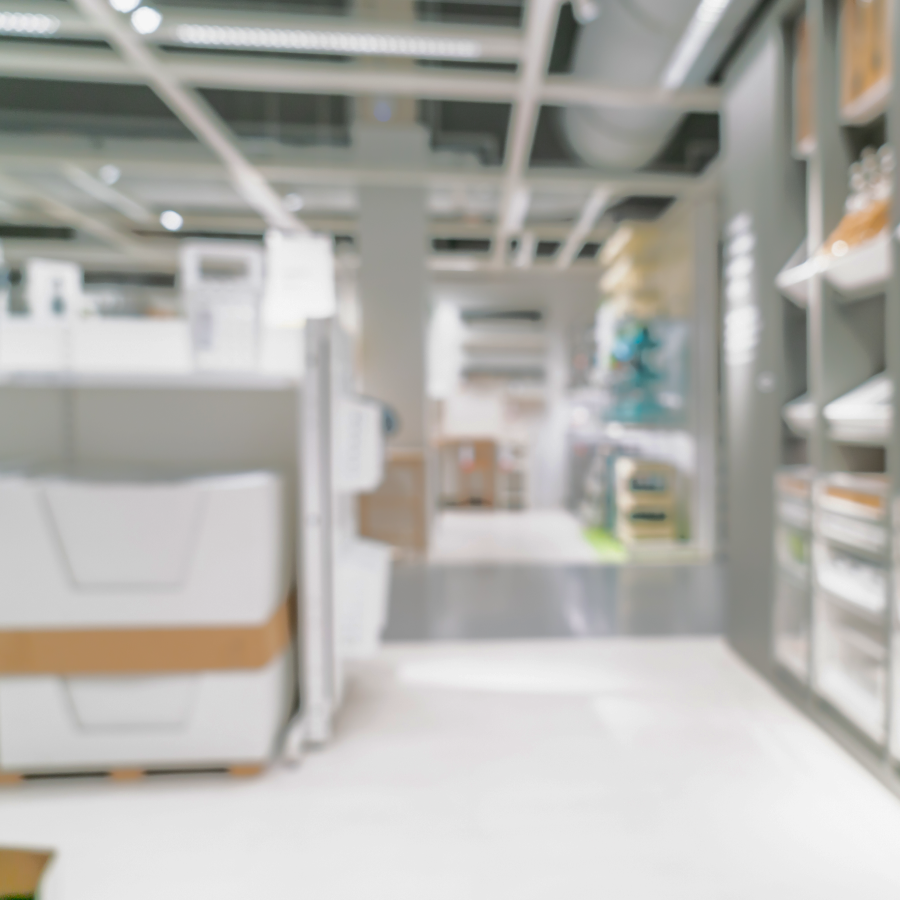 Self Checkout
This is how Leinweber Baucentrum successfully uses self-checkout technology in the DIY segment - whether it's a traditional DIY store or a 24/7 DIY store. Learn more about the range of application scenarios that can be covered with SCOs and Scan & Go.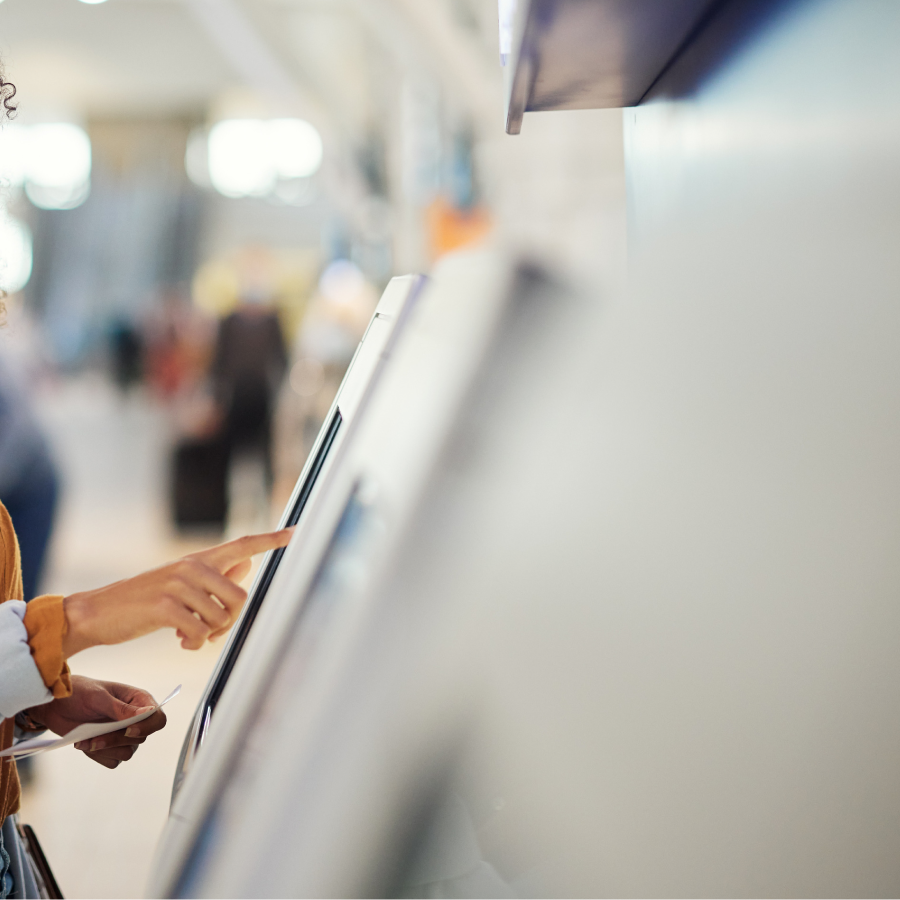 Anti-theft Prevention
How can retailers effectively combat theft and shrinkage while providing customers with a seamless shopping experience? Click on this slide to find out.
mobilePOS
The international duty-free retailer Gebr. Heinemann is a pioneer in showing how mobile checkout systems can be used to make more efficient use of store space, reduce staff workload and at the same time achieve a higher quality of service.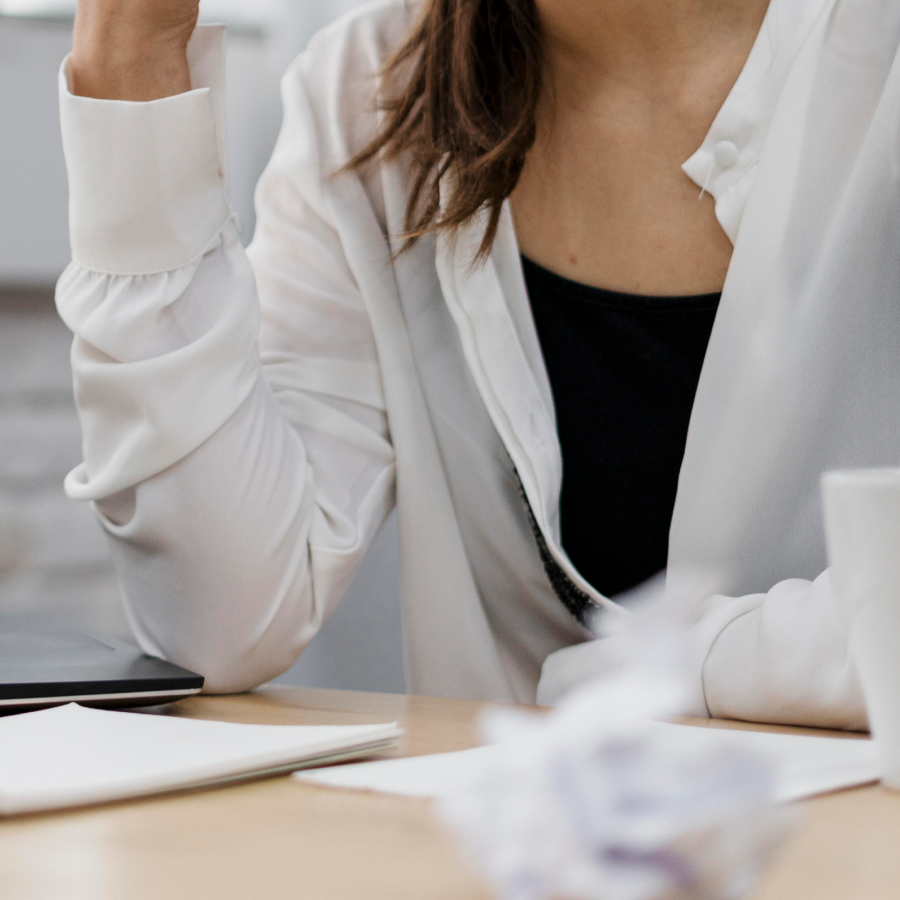 Fallback POS
Whether cyber attacks or technical faults - a failure of the POS system can lead to a loss of sales of up to 100 percent and also damage your reputation. Find out how you can protect yourself against these risks.
Get advice on your possibilities
Revolutionize Your Checkout