The added value of a self-checkout technology for brick and mortar retailing
4 min read
September 16, 2022 at 3:19 PM

The introduction of technologies in stationary retail, such as self-scanning or self-checkout kiosks, offers retail companies new, innovative opportunities to personalize the customer experience in the store as well as to increase value creation at the POS. The importance of self-checkout systems in stationary retail continues to grow. According to the EHI Retail Institute, the number of self-checkout systems used in Germany in 2021 has almost doubled compared to 2019.
The challenge here is to find a solution from the various self-checkout configurations that is tailored to the industry, the specific processes and the shopping behavior of the customers. Usually, a combination of different self-checkout systems is used in conjunction with each other to suit the shopping behavior of different customer groups, but other concepts, such as unmanned 24/7 stores, are also conceivable. The ongoing development of self-checkout technology also offers stationary wholesalers and retailers an extensive range of possible applications.
What is Self Scanning?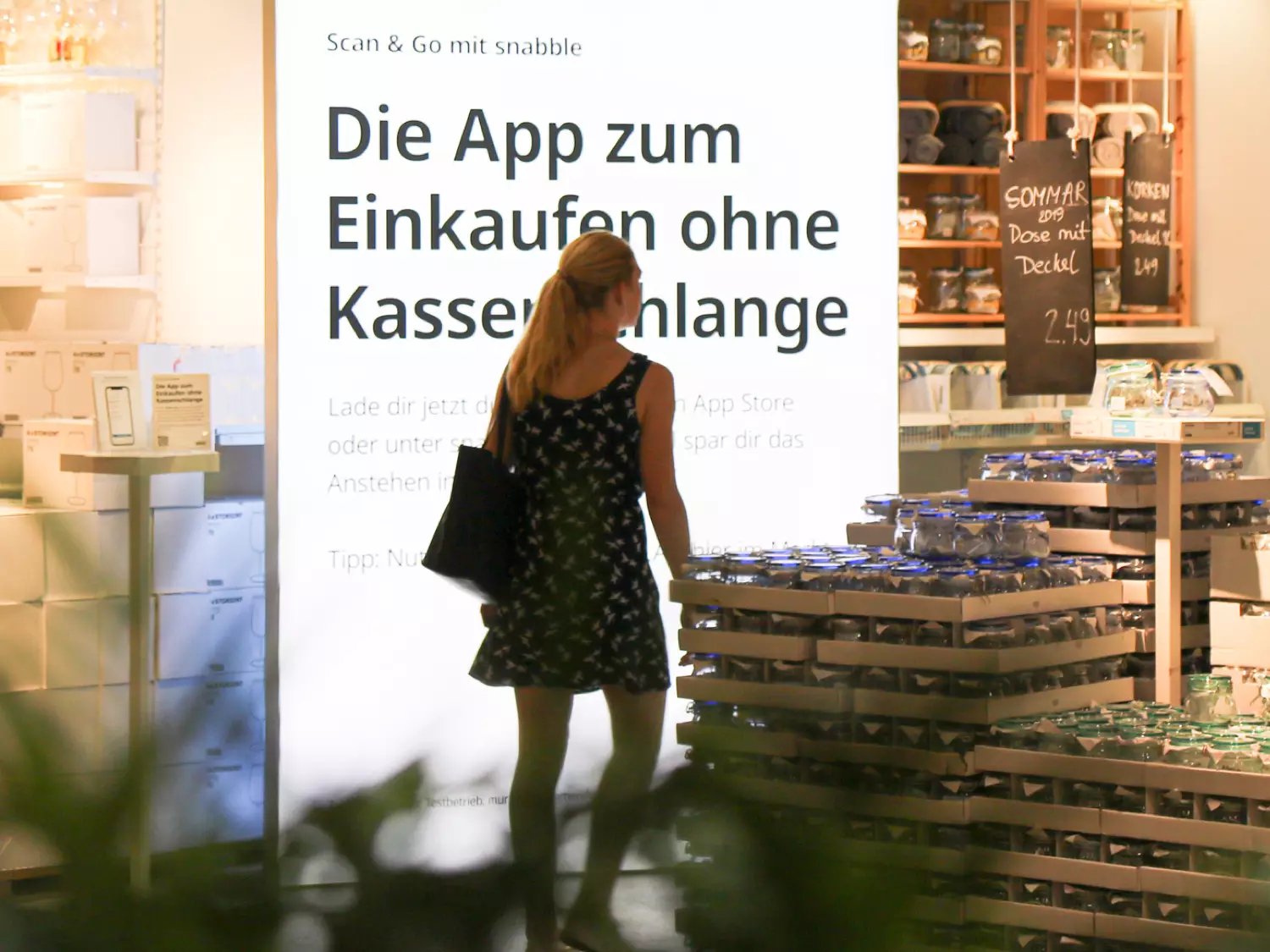 Source: Snabble
"Self Checkout" or "Self Scanning" (SCO) is a term used to describe various technologies and systems that enable customers to take over all or part of the checkout process during their shopping trip. In concrete terms, customers can scan items themselves, which means that less space is used per checkout and a higher throughput can be achieved, as well as relieving employees and offering customers a more personalized shopping experience.
Self-checkout systems have been tried and tested many times and are used in different variants. Typically, self-scanning complements the existing conventional checkout so that customers still have a choice of checkout options.
How does a self checkout system work?
Basically, there are two different types of self-scanning. At a stationary self-checkout terminal, customers literally take scanning into their own hands. The built-in scanners can record items, the user interface guides customers through the checkout process and payments can be made directly at the self-checkout terminal using an EC terminal or automated cash acceptance. The terminals are often equipped with additional features such as trays, scales or receipt printers, which means that all the functions of a conventional checkout can be reproduced.
With mobile self-scanning, on the other hand, customers can use an app or special mobile devices to scan items while they are shopping and either pay directly on their own smartphone or have a QR code generated so that it can be read at the stationary self-checkout kiosk and then pay for the purchase. In practice, both variants of self-scanning are often combined to create a seamless shopping experience.
What added value do self checkout systems (SCO) offer?
The use of self-scanning or self-checkout technologies (SCO) with its various advantages can represent a clear added value for retail companies. The following aspects show this particularly clearly.
Customer experience in the checkout area
The strongest motivation for retailers to introduce self-checkout checkouts is to improve the customer experience. By eliminating queues at traditional checkouts, customers can help themselves to a self-checkout terminal and thus complete their purchase much faster. Especially for smaller purchases, the use of self-checkout terminals is an enormous gain in time.
The use of a self-checkout terminal is not only suitable as a supplement to conventional checkouts, but also contributes to modernizing the checkout zone. The use of such technologies not only has a significant impact on the image of a retail company, but can also lead to the development of new customer groups. One reason for this is that self-checkout terminals adapt effortlessly to changes in customer buying behavior. They also support a smooth and intuitive checkout process and effectively reduce waiting times. This is made possible by a user-friendly interface on the screens with clear LED displays that further enhance the checkout experience. Furthermore, they support multiple payment methods.
Operating costs and profitability
Implementing self-checkout registers offers retailers multiple benefits. First, self-checkout kiosks are a cost-effective solution that can both reduce a merchant's operating costs and increase profitability in several ways.
For example, the use of self-checkout registers allows for higher throughput per register. In addition, self-checkouts have significantly lower maintenance costs than traditional checkouts due to their low maintenance requirements. In addition, by eliminating or reducing traditional checkout zones, employees can be redeployed to other value-added activities and contribute to a positive customer experience. Lastly, digitized receipts can be created, providing a sustainable alternative to traditional printed receipts.
Increasing floor space capacity
Another benefit of self-checkout kiosks is the increase in floor space capacity. Self-checkout areas create additional selling space because they require a significantly smaller footprint due to their sleek design. At the same time, retailers can serve more customers per square meter.

Increasing productivity



The key to productivity is for employees to focus on the essential tasks of running the store. Self-checkout systems contribute to high levels of productivity and efficiency by giving employees more energy and time to focus on other value-added activities. As a result, retailers have a well-organized store with attentive employees, where customers feel comfortable and in good hands.

The store of the future



Automating the checkout process not only convinces customers, but also offers numerous advantages, especially for brick-and-mortar retailers. The use of self-checkout terminals can reduce operating costs, increase profitability and expand floor space capacity. At the same time, retailers can position themselves for the future and respond to the increasing demands of digitized customers.

Conclusion: The added value of a self-checkout technology



Better customer experience
due to reduced waiting time and higher self-determination
Better customer experience
Modern store design
that meets the needs of a modern shopping experience
Modern store design
Increased throughput
due to reduced floor space requirement
Increased throughput
Productivity increase
as monotonous activities are eliminated and more value-adding ones are taken over
Productivity increase
More individualized purchasing
as customers enjoy more freedom throughout the purchasing process
More individualized purchasing
Reduced maintenance costs
compared to conventional checkout systems
Reduced maintenance costs
The use of self-checkout or self-scanning technologies offers both retailers and customers many advantages that make shopping more innovative, flexible and personalized. In each specific case, the appropriate implementation strategy should be found and customer needs considered so that companies and users can benefit from the advantages of self-checkout. We would be happy to inform you about the possibilities and advantages of an implementation in your branches.
No comments yet
Let us know what you think